21 Series Soft Rubber Light-Medium Duty Casters - 3.5 Inch


F.O.B. West Coast Warehouse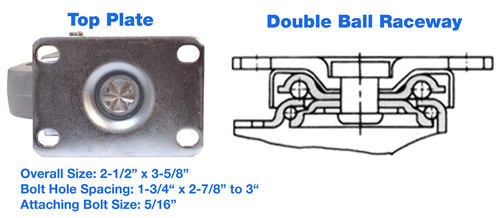 Ergonomically designed to reduce the risk of accidents and injuries to operators, these casters improve dangerous work conditions created by wrong wheels for the floor surface, worn-flat wheels, worn holes or sockets, bent stems, locked raceway or missing ball bearings. Ideal for home, office, and industrial furniture and equipment.
Top Plate
Overall Size: 2-1/2" x 3-5/8"
Bolt Hole Spacing: 1-3/4" x 2-7/8" to 3"
Attaching Bolt Size: 5/16"