CA10 Series 10 Inch Heavy Duty Polyurethane Iron Core Casters


F.O.B. Oregon Warehouse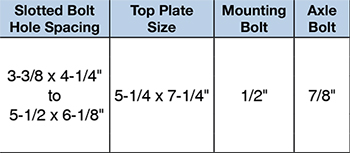 Outlasting rubber 10 to 1, these casters are quiet, non-marking, easy to roll and have a long tread life. Ideal for steer trailers, platform trucks and custom material handling equipment where high capacity is needed.
Heavy duty 7/8" axle bolt
3"W wheels for all models
Top plate and base "cold forged" double ball race.
Steel core wheel with 5/16" thick polyethylene tread
corrosion-resistant: All parts except wheel are zinc-plated.
Extra strength from double row ball bearing swivel, raceway hardened,
Top Plate Dimensions: 5-1/4" x 7-1/4" x 3/8" thick
Bolt Hole Pattern: 3-1/4"x4-1/4" to 4-7/8"x6-1/2" for 1/2" mounting bolt.