Quick Rack Particle Board Decking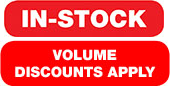 FOB: Oregon Warehouse
Rests inside beams.
Flush with top of beams.
5/8" thick.
Cut to fit inside beams.
Safety Decking Supports are required when using particle board decking.
Bulk Storage Racks by Stromberg:
Stromberg Quick Rack Beams lock securely into uprights.
Optional: 5/8" Particle Board or Wire Mesh Decking.
If you need a large quantity of this product, call us at 1-800-338-1382 for additional bulk discounts!