Stromberg 24" x 48" Dual Handle Platform Trucks with Casters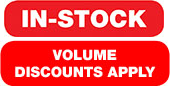 F.O.B. West Coast Warehouse
airports, art galleries, bakeries, beverage companies, bottled water, breweries, cabinet makers, casinos, department stores, farmers markets, feed dealers, firewood dealers, fish packers, food products, fruit packing, furniture dealers, garden supplies, grocery companies, janitorial supply, lumber yards, mill supplies, mining companies, nursery plants, office furniture, plant stores, sporting goods, taxidermists, tire dealers, wineries.
Features rounded corners and recessed handle sockets on all four corners to protect merchandise, personnel and buildings.
Two removable handles
Custom sizes upon request.
Add $2.80 per wheel for side brakes.
12 Ga. Deck with removable handles.
2" x 2" x 3/16" Angle Cross Braces for caster mounting.
Stock color: Blue
Choose the right wheel for your application:

Mold-On Rubber. A common and economical choice for manual applications. Strong, but quiet and shock-absorbent.

Phenolic. Handles big loads without damaging floors. Works best on smooth, debris-free surfaces. Avoid using in water or constantly wet environments.

Polyurethane on Steel Core. Good floor protection. High weight capacity. Not recommended where water is present.

Fully Pneumatic. Quietest option and the best choice for uneven surfaces and rough terrain. Offers excellent floor protection and provides a smooth, cushioned ride. Ideal for chemicals, delicate components and breakable merchandise.