Stromberg Mezzanines - 10 Ft Clearance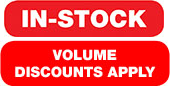 F.O.B. Oregon Warehouse

Mezzanine Stock Color: Gray
Stairway Stock Color: Silver

Easy installation with drawings that require no drilling or welding. The Stromberg Mezzanines are made in the USA. Our mezzanines allow customers to:
Increase your storage space from unused area
Create a work platform for an assembly area
Add an in-plant office, break room, or a lunch room
Renovate existing unusable warehouse space into usable space
Heavy duty mezzanines feature minimum 6 x 6", 3/16" thick columns with 12" base plates and 125 psf uniform live load capacity. Easy installation with drawings that require no drilling or welding. Made in the USA.
We specialize in custom-design mezzanines. Call 1-800-338-1382 for assistance with any mezzanine application.
Submit drawings showing:
Size and height of your mezzanine.
Clear height of the structure.
Number of support columns and location.
Type of decking desired.
Location and types of accessories; such as gates, hand rails, platforms, stairs, etc.
Mezzanines double your usable floor space. Suitable for commercial and industrial applications.
Mezzanines:
Mezzanines include roof deck (painted white for greater light reflection) and 3/4" tongue and groove moisture resistant unfinished resinboard. Color: gray. Add 1'-1" to clear height to get top-of-deck height. - Example: 8' clear is 9'-1" top of deck. Specify clearance height with suffix: 8 for 8' clearance height, 9 for 9', 10 for 10'. Example model #:SM-1111-8, 11 x 11' mezzanine with 8' clear height.
NOTE: Dimensions listed below are nominal, exact dimensions may vary +/- 1".

For seismic zone applications and other mezzanine sizes, please call.