Workbench with Upper Shelf - 48" Width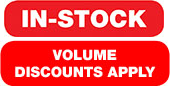 FOB: Oregon Warehouse

Choose from 16 sizes to suit your work space. Easy to assemble thanks to the boltless, double rivet design.
Elevated shelf is 12"D and 24" above work surface.
All work surfaces are 36" high.
Available with or without 5/8" particle board decking.

16 sizes available. With or without decking.
If you need a large quantity of this product, call us at 1-800-338-1382 for additional bulk discounts!